CIMCO Edit is a popular and easy to use CNC program editor, and includes powerful features to improve the productivity of CNC programmers. Specialized add-ons are available for viewing Mazatrol files, working with 2D CAD/CAM and 3D machine simulation. It provides a comprehensive set of essential editing tools, an NC-Assistant for fast NC code edits, 3D Mill/2D Lathe graphical backplotting, and a fast and fully configurable side-by-side file compare. CIMCO Edit has both a Standard and a Professional version; see the table below to compare.
CIMCO DNC-Max works with your existing CNC machines, robots, PLCs and test stands and provides a full-featured solution for managing and transferring CNC programs. Supports drip-feeding, downloading, and uploading via parallel, RS-232, RS-422 Ethernet, and wireless Ethernet – and supports program transfers to be initiated directly from the CNC control.
CIMCO MDC-Max is the complete MDC solution that automatically gathers and processes manufacturing data from the shop floor in real-time. Easily generate reports and charts with automatic calculation of OEE, cycle time, idle time, setup time, downtime and more. MDC-Max features real-time machine monitoring with Live Screens and has a fully customizable Operator interface for entering downtime reasons directly at the machine. Since MDC-Max is a networked solution that stores data on a central server you can monitor production from multiple locations and access the data from anywhere.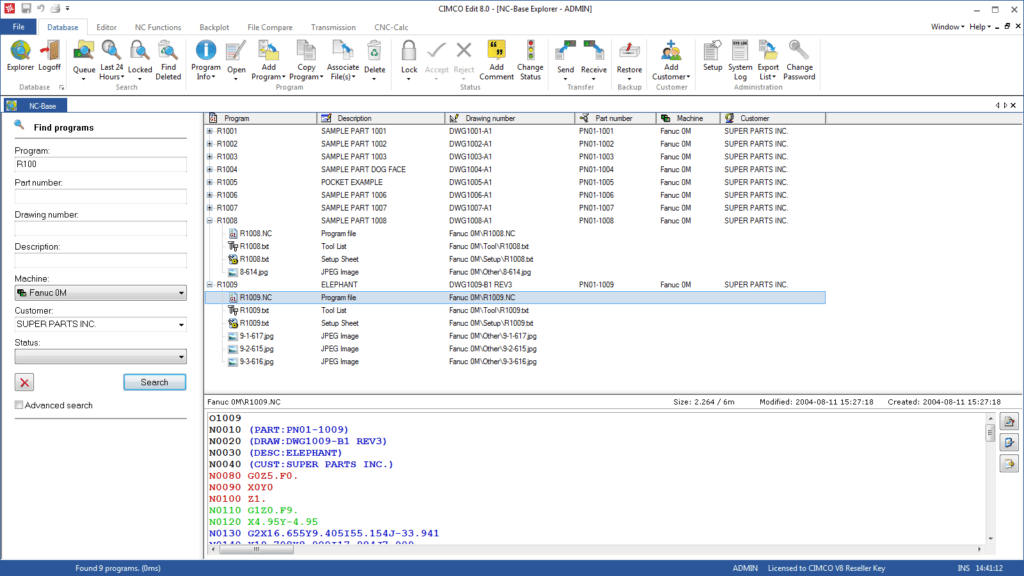 CIMCO NC-Base is a CNC program management tool that allows you to organize and manage your CNC programs and related production documents. Management of part programs and associated production documents is often a time consuming task for CNC programmers and operators. CIMCO NC-Base takes care of that job and goes one step further. By providing an integrated and highly flexible management, search and editing environment, programmers and operators are guaranteed to work more effectively.