Predict product performance with Inventor Nastran
Learn how you can forecast product performance, improve design, and speed up innovation using Autodesk's Inventor Nastran, the industry-leading Finite Element Analysis (FEA) program.
November 22, 2022 | 10:00 AM CST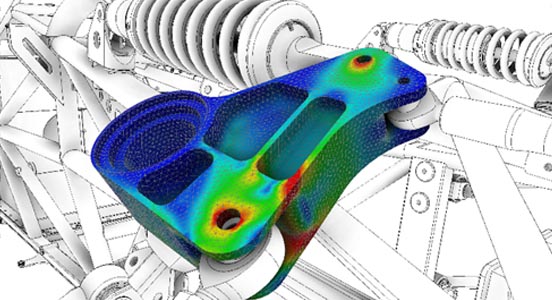 Powered by Autodesk Nastran solver technology – Provides precise and dependable FEA solver solutions that are widely accepted in the industry inside your CAD environment
Advanced analysis capabilities – Known for powerful simulation in composite, nonlinear, and dynamic analysis, and more.
Wide range of analyses – Analyze linear and nonlinear stress, dynamics, and heat transfer characteristics of structures and mechanical components.
Accurate results – Helps ensure accuracy and consistency through a comprehensive verification program and documentation set using NAFEMS.
Embedded in your CAD system – Autodesk Inventor Nastran is a CAD-embedded simulation tool featuring true geometry associativity and a single-window CAD/FEA experience. By offering an embedded workflow, Autodesk Inventor Nastran streamlines processes allowing you to maintain your productivity and eliminate compatibility issues while equipping you with an industry-recognized, professional-level FEA platform.
Flexibility across multiple CAD platforms – Unlike other single-platform simulation products, Autodesk Inventor Nastran offers the flexibility to share a single FEA tool across multiple CAD solutions and projects, providing a consistent user experience and consistent results regardless of the CAD environment