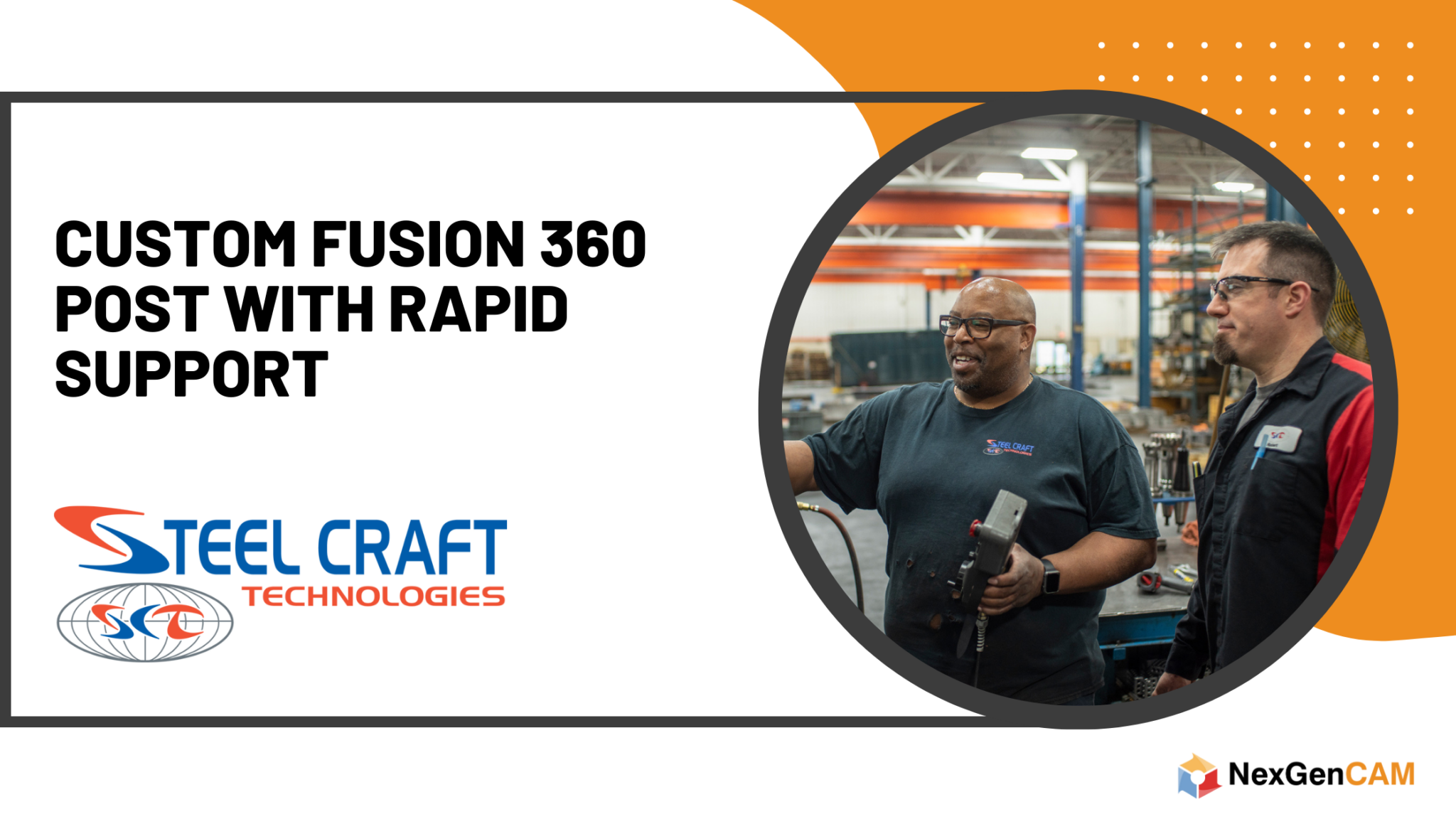 Customer Challenge
Steel Craft Technologies, an ISO 9001-2015 certified steel service center located in Grand Rapids, Michigan, continues to raise industry standards for quality steel products along with on-time delivery. Steel Craft Technologies strives for excellence daily by consistently producing quality steel products that always include best-in-class customer service.
Steel Craft's continued focus on quality and on-time delivery led to (3) robots and (1) multi-axis CNC machine in an automated cell capable of handling one-off steel parts up to approximately 1,100 lbs. efficiently as though we were running production parts. We were challenged with needing a post for Fusion 360 that could utilize probing, tool break detection, multi-axis machining, and more at the CNC machine, but also able to simultaneously output multiple files for the automation to verify material, work holding and process it through the cell. That is when we looked to Autodesk Solution Provider NexGenCAM for support.
Project Goals
Our goal was to create quality one-off steel parts consistently and efficiently, using a custom automated cell to get the throughput that production cells are able to achieve.
Solution
Due to our timetable, we were "building the plane while flying it" during the installation of this machine and automation cell. When troubleshooting the machine and the automation while trying to run production on this project, we needed help developing the post for Fusion 360 on the fly. NexGenCAM was consistently there for us to update and develop the post for not only the different machining technologies, but to also simultaneously output files for collision avoidance system for the machine, files for the light guide system on the automation side, and files for work holding selection and location for robots on automation side. NexGenCAM also trained our programmers on how to efficiently generate the needed data in Fusion 360 for posting the multiple files.
Business Outcome
We are able to run this cell/CNC machine with much higher spindle uptime than our other CNC machines that run similar work pieces while minimizing program time increase per work piece.
HERE is a link to our video that includes footage of this cell.
Conclusion
While navigating unknown/new technology for our company, NexGenCAM was there to help guide us through the programming process with Autodesk Fusion 360.
---
Project Summary
Delivery Date
2022-10-13
Project Duration
20 days
Autodesk Solutions
Fusion 360
Services Provided
CAM Programming
Post Processor
Training